PRAYER PARTNERS OF PROMISE
from Dr. Bongoyok Moussa
Academic Dean
First weekly prayer items for the 120 prayer supporters
"Ask and it will be given to you: Seek and you will find; Knock and the door will be open to
you. For everyone who asks receives; the one who seeks finds; and to the one who knocks,
the door will be opened. Which of you, if your son asks for break, will given him a stone?
Or if he asks for a fish will give him a snake? If you then, though, you are evil, know how to
give good gifts to your children, how much more will your Father in heaven give good gifts to
those who ask him? Matthew 7:7-11 (NIV)
I. Praise items
We praise God for:
- His goodness to each one of us
- the wonderful vision He gave Mike and Adelle Mckinney
- His special blessing on PCU
- the assurance of success and victory
- what He has done so far through PCUís leadership team, faculty, friends, donors, students, and alumni
- the impact and transformation of our training on our alumniís lives and ministries around the world
- the new facility in West Covina
- the assurance that He will never fail us
- the new team members
- the joy to serve Him
II. Intercession
We ask God to:
- grant us courage, hope, confidence, spiritual discernment, vigilance, faithfulness, constant trust in Him, wisdom, health, protection, special favor in all the areas of life, unshakable peace, profound joy, deep love for Him and for our fellow humans, heavenly wisdom and integrity
- grant us a special ability to develop an excellent strategic plan before the end of December 2016 and to execute it carefully and successfully in the following years under His divine guidance.
- send us the best academically qualified and godly men and women for all the positions that need to be filled in the following months and years
- send us the best men and women who will enroll in our various academic programs around the world and thus get the right training in order to impact the world for our God (Father, Son and Holy Spirit)
- grant us a strong presence on each continent by July 2026
- grant us prosperity success in all our programs and activities
- use us as faithful agents of positive and holistic transformation in nations, communities, churches and individual lives
- provide generously to all our financial and material needs beyond what we can currently dream and imagine so that we are not limited in doing what He has called us to do (all the treasures of the universe belong to Him!)
- give us the necessary wisdom to faithfully manage all the resources in a way that it will yield outstanding lasting fruits for His kingdom and glory
- make even our enemies to be at peace with us as stated in Proverbs 16:7 since PCU found favor in His divine sight
- give us the favor to work very well as a team in all humility, love, mutual encouragement, patience, integrity, unity in diversity with a special focus on furthering the kingdom of God and glorifying our Lord in everything we do individually or collectively.
- bless all our leadership team, staff, students, alumni, prayers supporters, donors, partners, friends, family members in a special way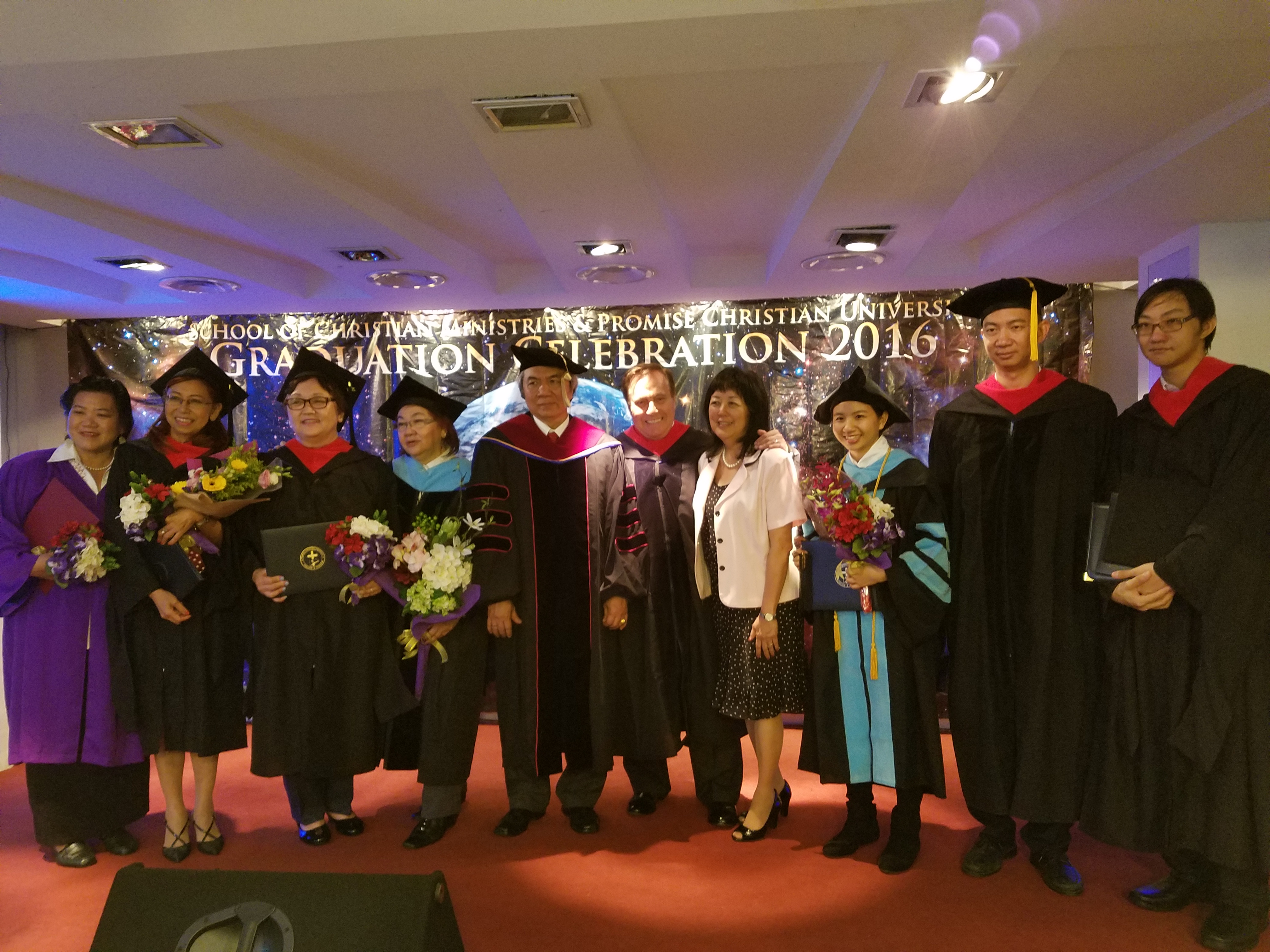 (Graduates: Seah Kwang Heng, CSM; Christine Faith DeSilva (Master of Ministry);
Sally Wong Yuk Kwong (Master of Ministry); Dr. Lily Low; Dr. Dexter Low:
Dr. Michael and Adelle McKinney; Anna-Grace Low Ern Ai (Doctor of Ministry);
Dr. Elijah Low; Victory Low Ern Kau (Master of Ministry)
June 11, 2016

Please remember Victory Low in prayer for a miracle!
Pray for Dr. Anna and Elisha Low as they plant a new ministry in
Adelaide, Australia!