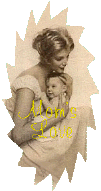 One of the fears I had of marrying a pastor was that I would be the mother of a few pastor's kids (PKs). How in the world can we be the perfect pastor's wife, the perfect hostess, the perfect women's ministry leader, the perfect secretary or administrator and at the same time raise perfect kids?
Does anyone have the answer? I don't!

This is why pastor's wives who raise children in the faith deserve the medal of honor in ministry.
Here's some suggestions that I learned from being a child of parents who were involved in ministry:
1. Let the children see God working in your lives. A picture is worth a thousand words.
2. Let the children observe mom and dad praying together and for them when they are sick.
3. Let the children know that you are willing to sacrifice personally (being second) to give them the best you can.
4. Let the children know how much you love God and let them see your faith in action.
5. When things are tough, explain it to them. Allow them to be a part of the family prayer team. It is true the family that prays together stays together. Here's another key, the church family that prays together stays together too.

Above all, be real, be fair and be genuine in your Christian walk. That is the greatest testimony and that is perhaps one of the best preventive measures to avoid producing a pastor's kid.